Class 10 IT 402 Term 2 Syllabus 2021-22 PDF – Complete Details for Information Technology Class 10 Term 2 Syllabus.
In IT 402 Term 2 syllabus there are total 4 units. 2 units from PART A – Employability Skills and 2 units from Part B Subject Specific Skills.
The two units from Part A comprises of 5 marks in term 2 exam and two units of Part B comprises of 20 marks [ 10 for each unit ] in the class 10 term 2 board exam.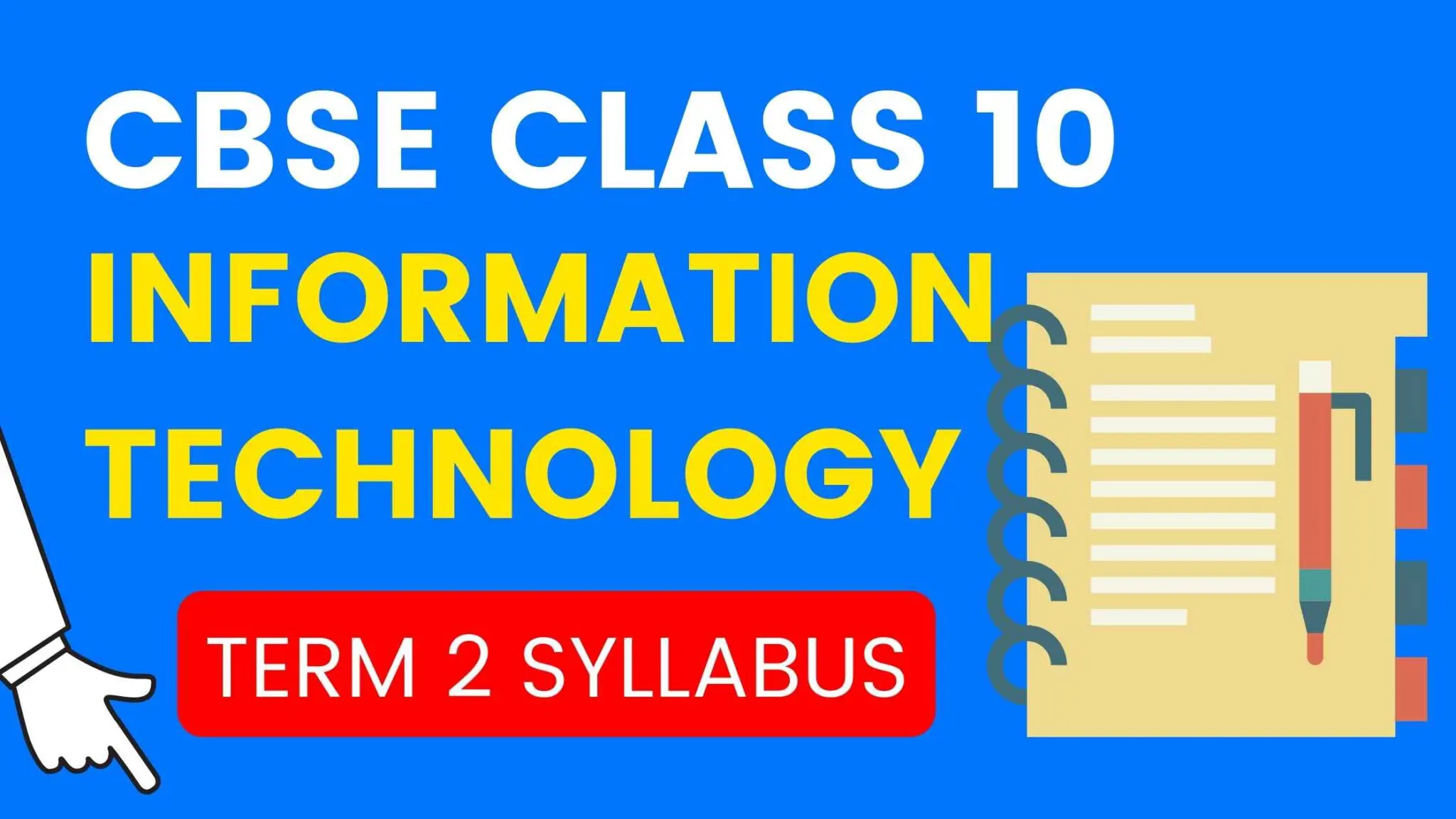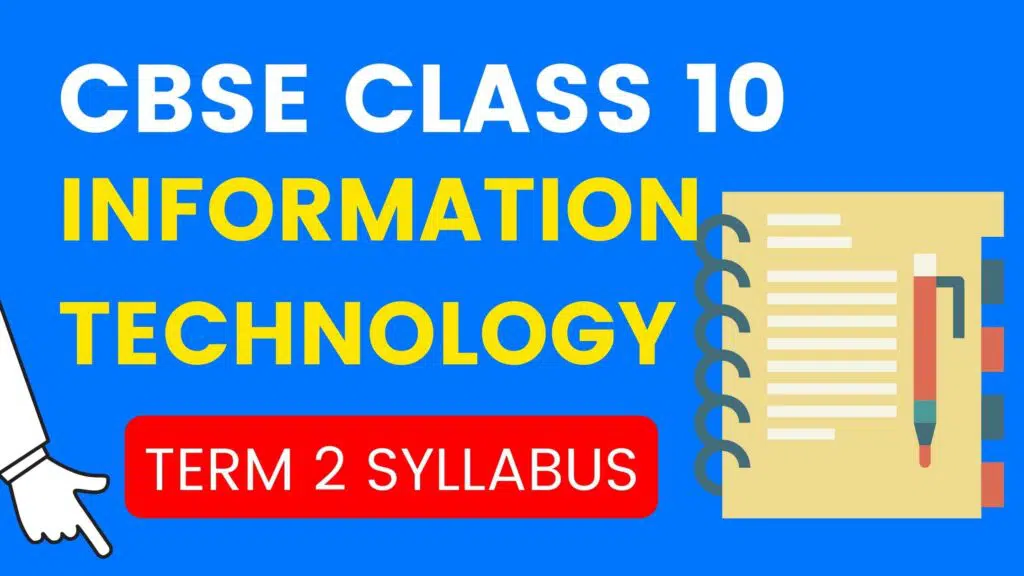 Class 10 IT 402 Term 2 Syllabus
| | |
| --- | --- |
| PART A – Employability Skills | Marks |
| Entrepreneurial Skills | |
| Green Skills | |
| | TOTAL – 5 Marks |
| Part B – Subject Specific Skills | |
| Database Management System | 10 Marks |
| Web Application and Security | 10 Marks |
| | Total – 20 Marks |
Information Technology Class 10 Term 2 Syllabus PDF
Here is the official PDF by CBSE for Class 10 IT 402 term 2 syllabus. You can also look into the details of each subtopic that you need to study in syllabus of IT 402 term 2.
With this official CBSE syllabus you can also find out the topics for IT 402 term 2 practicals and practice accordingly. The details about topics from unit 3,4 in subject specific skills that would be assessed in Class 10 IT 402 Term 2 Syllabus board exams are also included in the PDF.
Read More –
Information Technology Class 10 Term 2 syllabus
Here are the details of Class 10 IT 402 Term 2 Syllabus. These are the topics that would be assessed in term 2 board examinations.
UNIT 3: DATABASE MANAGEMENT SYSTEM
Appreciate the concept of Database Management System
Concept and examples of data and information,
Concept of database,
Advantages of database,
Features of database,
Concept and examples of Relational database,
Concept and examples of field, record, table, database,
Concept and examples of Primary key, composite primary key, foreign key,
Relational Data base management system (RDBMS) software.
2. Create and edit tables using wizard and SQL commands
Introduction to a RDBMS
Database objects – tables, queries, forms, and reports of the database,
Terms in database – table, field, record,
Steps to create a table using table wizard, Data types in Base,
Option to set primary key
Table Data View dialog box
DDL Commands
3. Perform operations on table
Inserting data in the table,
Editing records in the table,
Deleting records from the table,
Sorting data in the table, Referential integrity,
Creating and editing relationships – one to one, one to many, many to many,
Field properties.
4. Retrieve data using query
Database query,
Defining query,
Query creation using wizard,
Creation of query using design view,
Editing a query,
Applying criteria in query – single field, multiple fields, using wildcard,
Performing calculations,
Grouping of data,
Structured Query Language (SQL).
5. Create Forms and Reports using wizard
Forms in Base,
Creating form using wizard,
Steps to create form using Form Wizard,
Options to enter or remove data from forms
Modifying form,
Changing label, background,
Searching record using Form,
Inserting and deleting record using Form View,
Concept of Report in Base,
Creating Report using wizard,
Steps to create Report using Wizard.
UNIT 4: WEB APPLICATIONS AND SECURITY
Working with Accessibility Options.
Understand various types of impairment that impact computer usage
Computer Accessibility Dialog box and its tabs
Serial Keys
2. Understand Networking Fundamentals.
Network and its types.
Client Server Architecture, Peer to-peer (P2P) Architecture,
internet, World Wide Web,
benefits of networking
internet, getting access to internet,
internet terminology
Some of the commonly used Internet connectivity options
Data transfer on the Internet.
3. Introduction to Instant Messaging
learn key features of instant messaging
Creating an instant messaging account
Launching Google Talk
Signing In into your Google Talk Account
4. Chatting with a Contact – Google Talk
learn to chat with a contact that is already added to your contact list.
sending text chat messages instantly by double-clicking on a contact.
general rules and etiquettes to be followed while chatting.
chatting on various types of messengers
5. Creating and Publishing Web Pages – Blog
learn and appreciate a blog and its creation with the help of some blog providers
set up title and other parameters in a blog posting comments
using offline blog editors
6. Using Offline Blog Editors
Concept to create blogs using a blog application and publish the blog whenever internet connectivity is available.
7. Online Transaction
concept of e-commerce and various online applications
importance of secure passwords
8. Internet Security
Need of internet security
Cyber threats like phishing, email spoofing, char spoofing etc.
best practices for internet security and secure passwords
concept of browser, cookies, backup, antivirus
clearing data in browsers
9. Maintain workplace safety
Basic safety rules to follow at workplace – Fire safety,
Falls and slips, Electrical safety, Use of first aid.
Case Studies of hazardous situations
10. Prevent Accidents and Emergencies
Accidents and emergency,
Types of Accidents,
Handling Accidents
Types of Emergencies.
11. Protect Health and Safety at work
Hazards and sources of hazards,
General evacuation procedures,
Healthy living.
So, this was all about Class 10 IT 402 Term 2 Syllabus. We have also shared the Class 10 IT 402 Term 2 Syllabus PDF which you can save and refer to it anytime you want. If you find this post about CBSE Class 10 IT 402 Term 2 Syllabus helpful then please share it with your friends.