CBSE Class 9 Self Management Skills Class 9 Notes for session 2022-23. The best Self Management Skills Class 9 Notes that cover all the important NCERT book portions.
Hey, Class 9 Student! If you are searching the clear, concise, and to-the-point notes for Class 9 Information Technology code 402 Unit 2 – Self Management Skills then you are at the best website.
Let's start studying our Unit 2 – Self Management Skills Notes.
Self Management Skills Class 9 Notes
Self Management is the ability to control the self i.e controlling one's emotions, actions, behavior, etc. One who is able to manage him/herself can plan and execute his/her plans effectively.
Session 1: Introduction to Self-management
Self-Management – The ability to manage/control the self. It involves understanding yourself, understanding what your interests and ability are, and having a positive attitude towards life.
Self-management helps us develop good habits, break bad habits, and also helps us achieve our goals. When we manage ourselves effectively, we can easily overcome the difficulties of our life thus living a stress-free life.
Self-management skills include –
Self-awareness
Self-control
Problem-solving
Self-confidence
Self-motivation
Personal hygiene and grooming
Positive thinking
Teamwork
Time management
Goal setting
Session 2: Strength and Weakness Analysis
When you exactly identify your strengths and weaknesses you can improve upon your weak areas, and turn your strengths into exceptional performing areas. This Strength and Weakness analysis starts with knowing yourself.
Knowing yourself
You can know yourself better by asking yourself the right questions like what are my interests?, what activities do I perform well? what are the areas where I mostly struggle to perform well?
This is the first step for strength and weakness analysis, only after knowing yourself well you can identify your strengths and weaknesses.
Strength and weakness analysis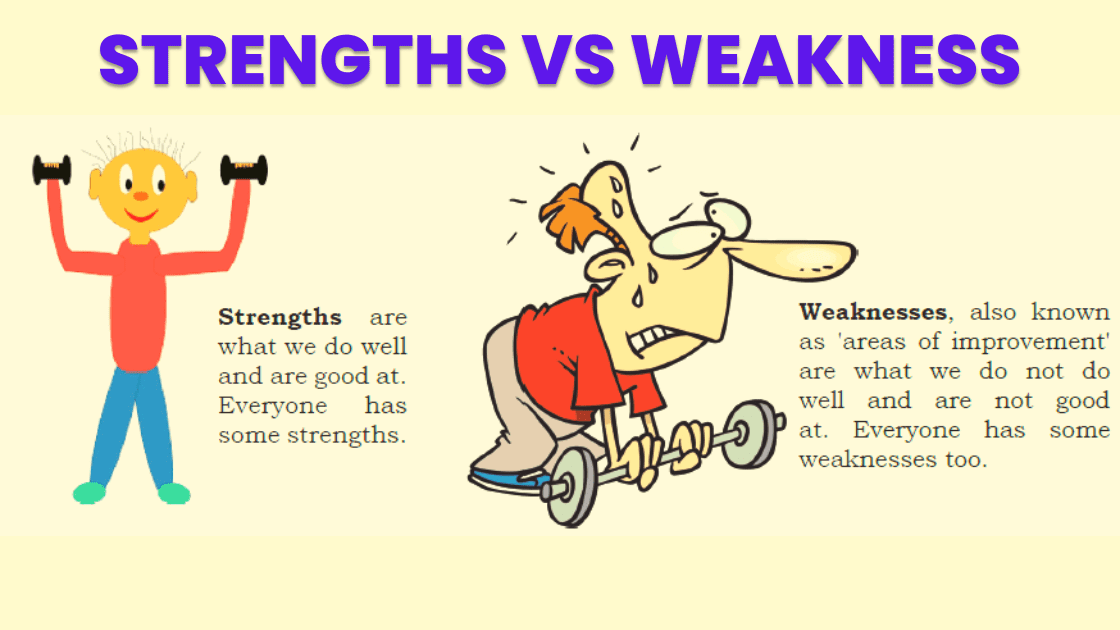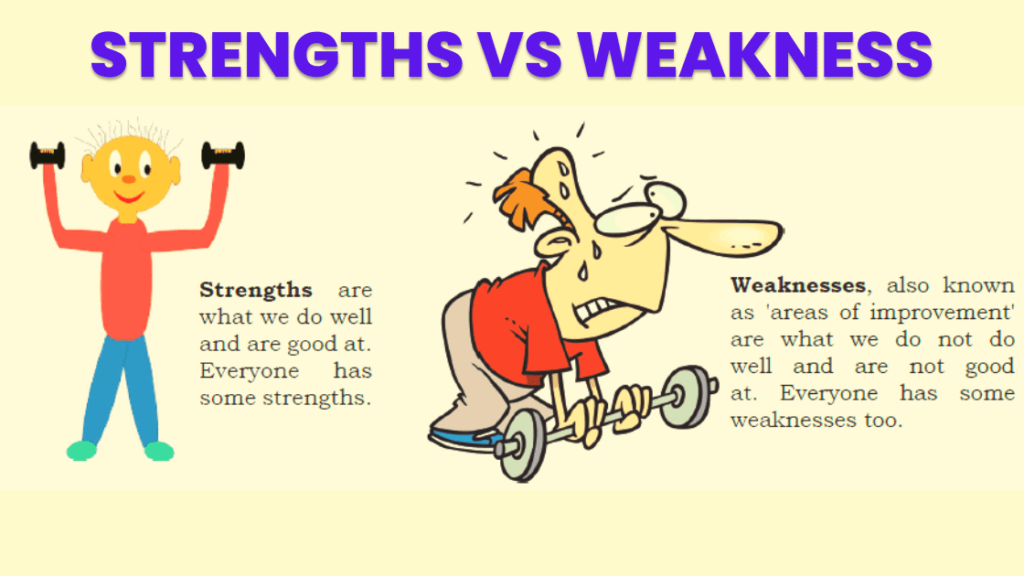 Ways to Identify your strengths –
• Take time off to think about what you do well
• Think of anything that you are always good at
• Think about what others appreciate about you
Ways to Identify your weaknesses –
• Find out the areas where you struggle and what kind of work you find difficult to do
• Look at the feedback you receive from others, whether it is positive or negative.
• Be open to feedback and accept your weaknesses without feeling small about them.
Also, Read – Communication Skills Class 9 Notes
Difference between interests and abilities
Interests are those activities that you enjoy doing. For example playing cricket, or the activities that you perform in your free time, or it can also be those activities that you are curious about and would do even if no one asked you to do them.
Abilities are acquired or natural capacity that enables an individual to perform a particular job or task effectively.
Session 3: Self-confidence
Self-confidence is a sense of trusting own's abilities and self. When you know for sure that you can do a particular task and will perform it very well, that is self-confidence.
Self-confidence is a quality we build when we believe in our strength to succeed in anything we do in life. People who are confident, believe that they can do anything given to them in any situation.
Qualities of self-confident people
Self-belief
Hard Work
Positive Attitude
Commitment
Building self-confidence
Appreciate your achievements and accept the failures.
Have a goal and work towards achieving it.
Always look at the positive side of the event and be happy.
Factors that decrease self-confidence
(a) When we think that we can not do a particular task.
(b) When we keep regretting our past mistakes, instead of learning from them.
(c) When we expect to be successful at the first attempt itself and not try for the second time.
(d) When we are surrounded by people who have a negative attitude, which is reflected in their speech.
More Resources – Class 9 IT 402 Book PDF, CBSE Academic Website
Session 4: Positive Thinking
If an individual has a positive attitude towards life and its challenges, he/she can overcome them and grow positively in life and work.
Positive thinking and its importance
Positive thinking requires a person to focus on the positive aspects of life and working on the things that are not going that well to improve upon those areas.
Positive thinking leads to good results for you like
• overcoming challenges,
• making you do well or making you an energetic individual,
• helping you get better at work, and
• making you and people around you happy.
How to keep your thinking positive?
You can follow the SMILE method to think positively. SMILE method is defined below –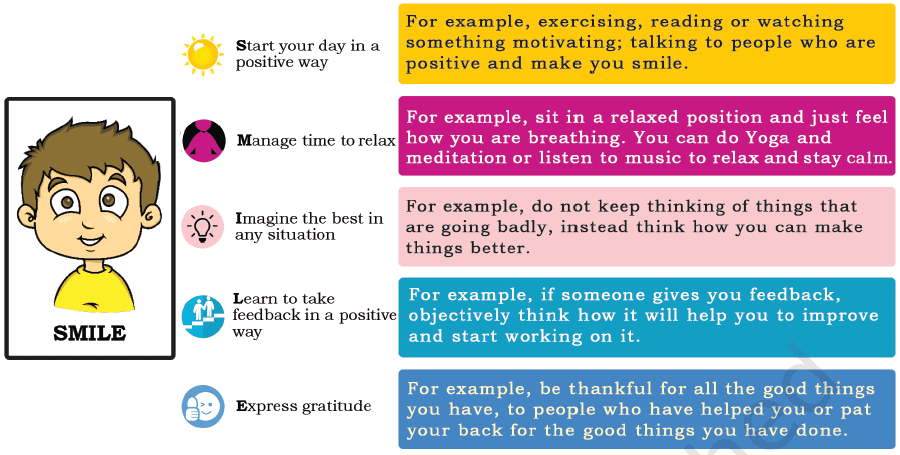 Session 5: Personal Hygiene
Personal hygiene is the practice of keeping oneself clean, it helps us to maintain our health and well being. By doing so we can ensure our regularity at our work, school or college.
Importance of personal hygiene –
It helps us to stay healthy
Create a healthy self image
It also helps us avoid feeling ashamed in public due to bad odour or bad breadth etc.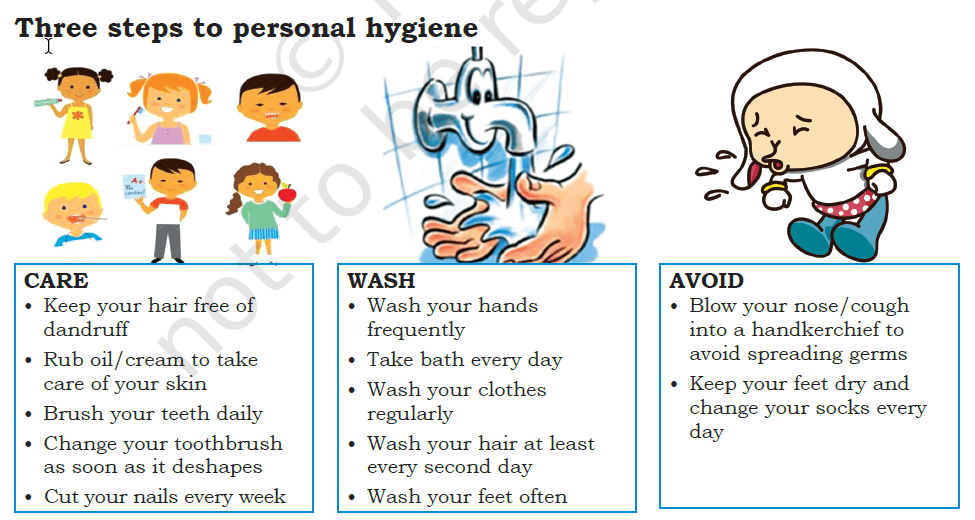 Session 6: Grooming
Grooming and its Importance
Grooming is the process of looking neat, tidy and smart. The way you dress, and groom yourself can either send the message that you are confident, smart and sincere or possess opposite qualities.
Dressing and grooming are important because they help us
• look smart
• feel confident about ourselves
• make a good impression of ourselves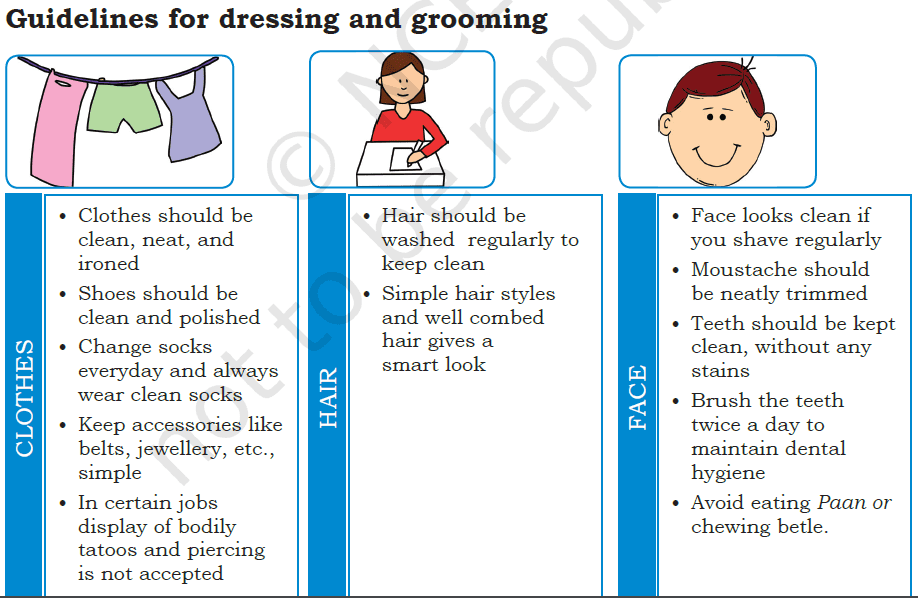 So here ends our Self Management Skills Class 9 Notes, I hope these notes helped you in preparing this unit for your upcoming exams. If you loved these Self Management Skills Class 9 Notes then consider sharing them with your friends, and also checkout other unit's notes for Class 9 IT 402 on our website they will surely help you a lot. Thank you so much for reading till the very end.