Are you not able to decide which sample paper book is the best? Today in this post you will get a clear idea about the best sample paper book for CBSE Class 10.
We would compare the top 2 most popular sample paper book publishers in the market. We would analyze their relevancy based on the sample paper pattern provided by CBSE, the way they have put answers to questions, and how many sample papers are provided by the publisher in the book.
The two most popular sample paper book publishers in the market in present time are – Oswaal and Educart.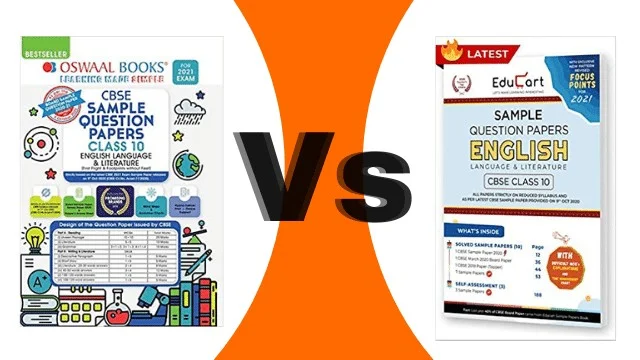 Starting with the main content available inside these two sample paper books –
Oswaal – 5 solved and 5 self-assessment papers, handwritten toppers answer sheet and CBSE's official sample paper.
Educart – 7 solved ans 3 self-assessment papers, topper sheet of 2020 and CBSE's official sample paper.
What's additional study material with sample papers they provide ?
Oswaal – Answer with Boards marking scheme in a proper word limit, answering tips, mind maps and On tip notes.
Educart – Toppers tips, time management for exam and latest syllabus for this year.
Which one has the better content to study ?
For this year 2021, Oswaal publisher is issuing it's 16th sample paper book edition for class 10. Educart is comparatively having a low experience if we put it into the facts. The more the experience the publisher have, creates an impact on the quality of content they produce. Having said that, we do not mean that educart is bad in any sense. Oswaal publishers have the experience and that's the reason they stand out in matter of content quality.
My Personal Opinion
Honestly if I would be in your place and had to chose one of them, It would be a tough decision to make for sure. But being you senior now when I look back into this case, I would prefer anyone of them. But since I have you mention the one publisher here in the post as I promised before, You should go with Oswaal. Why? because the way they have answered the questions in their sample paper book is exact and to the point, they have kept in mind the word limit for the answers, they have put it in proper points (they way examiner wants the answers to be) also you get the notes and other stuff as a bonus with it.
Already purchased other sample paper book ?
If you have already purchased the sample paper book for cbse class 10 and worrying what to do now? So, that is not a big deal! Go with it. Prepare from the sample paper book you have already purchased it is good in its own. Do not feel bad about it or purchase another one! Consider it to be the best and build your confidence by mastering those sample papers.
Want to purchase sample paper book for cbse class 10?
BUY OSWAAL SAMPLE PAPER BOOKS FOR CLASS 10 FROM AMAZON –
BUY EDUCART SAMPLE PAPER BOOKS FOR CLASS 10 FROM AMAZON –